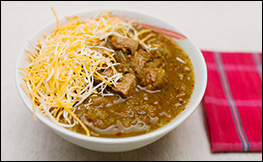 Kevin and Gail's Chili Palace is happy to cater your next business lunch or dinner party. In addition to up to three types of chili, we will supply you with all of the fixin's to complete your meal.

You tell us how many people you're serving, from an intimate setting to 100 or more, and we'll bring your meal fresh and ready to eat. Of course, we can also accommodate you with our convenient frozen vacuum-sealed bags for you to heat up and serve on your own.
Drop-Off Catering Menu
Chili Menu, $12 per Person
10 oz. serving, Chili Verde or Red Veg or Red Hen
6 oz. serving of spring mix salad or 4 oz. serving of zesty no-mayo slaw
1 oz. Hearty Italian dressing
1 piece of Mexican cornbread
1 oz. of shredded Mexican cheese blend
1 oz. of sour cream
Sides
Spanish Rice (4oz): $1.50  
Seasoned Black Beans (4oz): $1.25    
Additional Cornbread: 18 piece pan: $9.00   48 piece pan: $24.00
Side of CHILI (10oz): $7.00 (includes sour cream and cheese.) This is for the hungry eater: it's to be an add-on to a meal, not a stand-alone item.  eg. If there are 16 employees and 2 want additional chili, 2 side servings could be ordered instead of ordering 2 additional meals.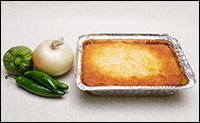 CHILI TAMALE PIES & TARTS:  Available in all 3 chili flavors. 3 Serving Sizes:        
½ chafer, serves 10-15. $45.00 

1 full chafer, serves 22-33. $90.00

Tarts 3" diameter in tin cup. Serves 1. 5-7 bites. $3.00 

(Minimum order of 6 tarts) 
Descriptions/Definitions:
Chili Verde: Traditional Southwest style. Lean heritage pork, tomatillos, onions, fire-roasted green chilies, cilantro, garlic, chili spices, salt. Dairy and gluten free. No additives or preservatives!
Red Hen: Smoky chicken chipotle chili in a red adobo sauce. Dark meat chicken, red jalapeños in adobo, fresh jalapeños, onions, tomatoes, garlic, chocolate, olives and chili spices. No preservatives. Gluten & Dairy Free.
Red Veg: Hearty vegetarian chili. Fresh red & green bell peppers, corn, fresh jalapeños, tomatoes, beans (black, kidney, pinto, red, and garbanzo), squash, celery, carrots, Anaheim chilies, onion, garlic, oregano, chilispices, pepper and salt. VEGAN. Gluten, Soy & Dairy Free. No additives or preservatives.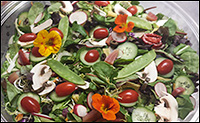 Mixed Green Salad: mixed greens, seasonal vegetables, celery, carrots, avocados, tomatoes (seasonal), black olives and cucumbers.
Zesty Slaw (Curtido): Green cabbage, carrots, green onions, Dijon mustard, apple cider vinegar, garlic, cayenne, black pepper, salt. VEGAN.  Gluten & Dairy-free.
Mexican Cornbread: Cornbread with Anaheim peppers, creamed corn, milk, cheddar-jack cheese, onion & roasted red peppers.
Spanish Rice: Himalayan brown Basmati rice with seasoned tomatoes, peppers and onions. Vegan. Preservative, Gluten and Dairy-Free.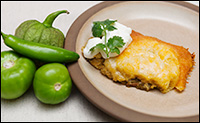 Black Beans: simmered with cilantro, garlic, onions and spices. Vegan.
Tamale Pies: Traditional Southwest style Chili Verde, hearty Red Veg Chili or smoky Red Hen Chili, additionally seasoned and layered with polenta, Corn and Chile Salsa and Mexican cheese blend. 
Food is delivered hot/cold (ready to eat) in disposable (recyclable) pans and containers. Disposable/Recyclable/Reusable serving utensils and 12 ounce compostable bowls provided, as needed. Additional charge may apply for serve-ware and difficult delivery conditions such as stairs and/or obstructions.